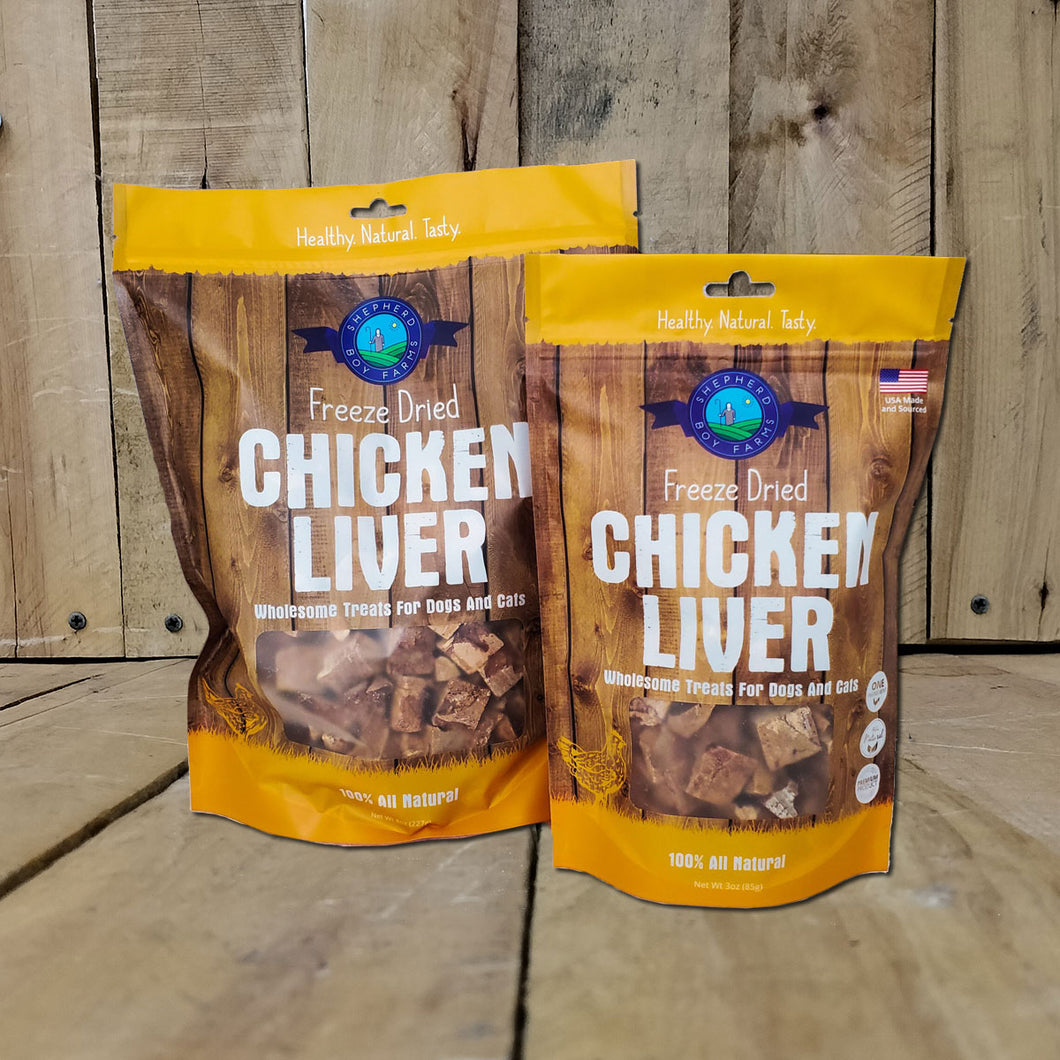 Freeze Dried Chicken Liver Dog Treats
Regular price $14.98 $12.95 Sale
Shark Fin Gear has sourced the finest freeze dried chicken liver treats for dogs made in the USA! They are created using a gentle freeze dry process that keeps the integrity of the product intact to preserve its natural characteristics. These treats:
• Promotes overall health and wellness

• High in Vitamin A, B12 and more
• High source of Omega 3 and Omega 6 Fatty Acids
•  Packed with protein
• Made from raw, diced Chicken Liver, with nothing added, and nothing taken, giving it an irresistibly strong flavor
• 4oz of freeze-dried meat is equivalent to 1 pound of non-freeze-dried meat
• 100% USA-sourced and made
Guaranteed Analysis:
Crude Protein: 70.45% (min)
Crude Fat: 15.38% (min)
Crude Fiber: 0.07% (max)
Moisture: 6.50% (max)
Storage/Handling
• The bag comes with a resealable zip-lock to maintain freshness.
• Best to feed within 45 days after the package is opened.
• Do not refrigerate.
• Store in a dry, cool place out of direct sunlight
• This package contains a non-toxic oxygen absorber packet. Keep in a sealed bag for freshness.
Our Promise
Shark Fin Gear Company strives to provide the highest quality products for your pet. That starts with holistic sourcing. These treats utilize wholesome meat that does not contain antibiotics or added hormones and we don't add any preservatives. Our manufacturer simply freeze drys the meat to lock in its amazing taste and nutrition. Our freeze-dried treats are made and packaged right here in a kitchen in the USA. All our products are tested by independent laboratories before being released to the public. Don't wait another day to reward your pet with these amazing mouthwatering treats!